Please be patient while the site loads the images needed for navigation.


The precursor to my Kings of the West mod, Shadows of Evil contains many of my previously released mini-mods combined into one large mod. The mod focuses on Mordor and Isengard with no changes to Gondor or Rohan.




Some of the basics of the mod:

Compatible with patch 1.03 of BFME I as well as online multiplayer
Completely finished and released mod

Additions or changes to Gameplay:

New Mordor Hero: Khamul the Easterling. Not the nazgul Khamul but rather a rhun pikeman who leads by example with his leadership (+250 Experience,+50% Armor, +200% Damage ), Pillage, and Blade Master powers. At a cost of only 1200 he is the perfect early game hero for mordor.
Adds the Witch-King on foot, with a toggle to mount his Fellbeast Adds the following powers to the Witch-King on foot:

Leadership (+100% Experience, +50% Armor,+200% Damage)
Toggle between War Mace and Sword
'Morgul Blade' Special Power (Reduces target Speed to 25%, armour to 50%, and Damage to 50%)
'The Black Breath' (Basically Saruman's Wormtongue power with a slightly larger radius)
'This is my Hour' (Blast that kills all enemy heroes in radius... includes new audio and an awesome new FX)
Mount Fellbeast

The following powers are added to Saruman, who now starts at level 10:

"Industry" (Spell similar to the existing Industry only with a castle-sized radius)
"Word of Power" (Red WoP identical to Gandalf's WoP, only its red)

The mod also contains 12 new team colors for Skirmish and Multiplayer (in addition to the original colors). The colors included are:

2 shades of grey
Black, white
New red, blue, teal, gold, and yellow
Hot Pink and Neon Green
Gray Green (Awesome Rohan/Fellowship color. It's the color of the Fellowship's Lothlorien cloaks)



The mod comes with an installer that you can run for easy installation.
If you encounter any problems, please visit my forums and let me know.


Khamul the Easterling
Witch King
Saruman

Download the Shadows of Evil mod by clicking on the image below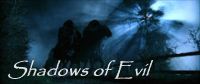 This site is not endorsed by or affiliated with Electronic Arts, or its licensors. Trademarks are the property of their respective owners.

Game content and materials copyright Electronic Arts Inc. and its licensors. All Rights Reserved.
BFME, Battle For Middle Earth, and all assumed entities associated with them are © 2004 EA Games.

© MMIV New Line Productions, Inc. All Rights Reserved. The Lord of the Rings and the names of the characters, items, events, and places therein are trademarks of The Saul Zaentz Company d/b/a Tolkien Enterprises under license